Warren and Mahoney Auckland's Mat Brown speaks to Melbourne's Nick Deans about a new multi-residential project for the practice in Melbourne, and what it can teach us about apartment living in Aotearoa.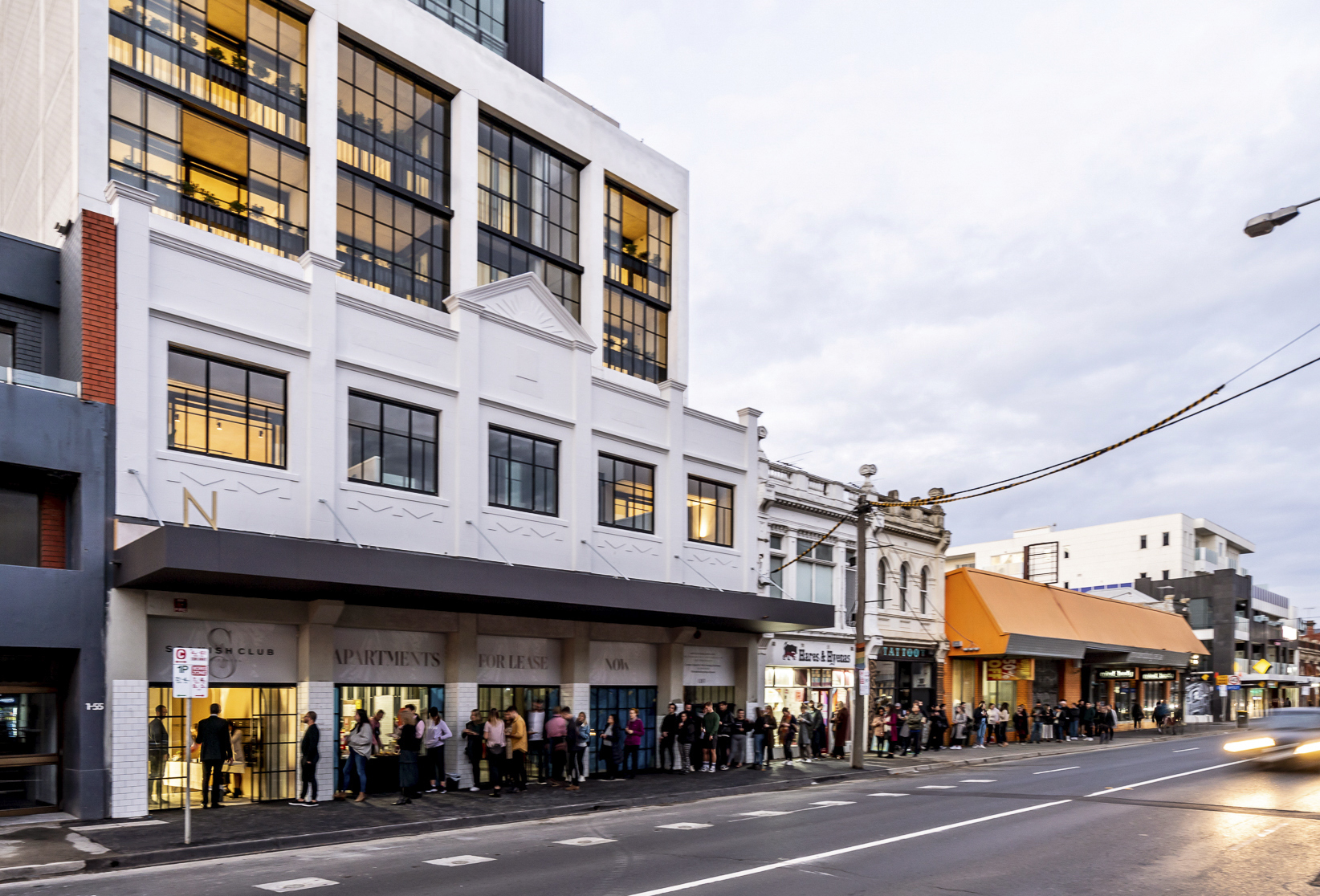 Founded in 1969 in the heart of the Spanish community on Johnston Street in Melbourne's Fitzroy suburb, the Spanish Club's initial aim was to provide a home away from home for Spanish immigrants who settled in Australia in the late fifties and early sixties. Warren and Mahoney has recently led the design on a new development of the club which features 32 luxury residences, a new clubhouse and a street-level tapas restaurant that the club will retain ownership of and lease to an independent operator.
Warren and Mahoney Principal and NZ residential sector lead in New Zealand, Mat Brown Brown caught up with Australian residential sector lead in Australia and Project Principal Nick Deans about how New Zealand – and in particular, Auckland – could take a similar approach to housing.
Mat Brown (MB): You've recently completed a new apartment building called the Spanish Club. How did this project come about?
Nick Deans (ND): We were approached by Tim Gurner to develop and help to reinstate the club; they wanted to reinvigorate the club and attract a younger membership.
The development deal offered the club an opportunity for a better financial position and unlocked the highest and best use of the land. It's a large site for where it is in Fitzroy and offered a two-storied building with plenty of room to play with above.
MB: As designers, we strive to create buildings that foster community. This is another spin on that where a community is adopted in some respects, and the developer has worked with them to deliver a project.
ND: For many Melbournians – their experience of the Spanish Club is the Johnston St Festival; they would go in to have tapas and they would get a window into this cultural institution. The opportunity for us was to ensure the legacy keeps going and to use it as the narrative for an authentic design response.
For the club, it's less about how big the building is but more about its location, sitting on a prime city fringe site.
It was well known the Spanish Club was struggling financially. Their membership was declining, so they were asset rich, cash poor. They wanted to be more outward focused; so not just about people of Spanish ethnicity but to be more welcoming to the broader cultural community.
MB: You're playing with not only the memories and attachment that the members have but the wider community. Has it been kept true to its old form or completely rethought?
ND: It's been completely rethought. The club is slightly smaller, we've added a food and beverage offering which is a revenue stream for the club to assist with financial sustainability. It does feel different but that is a deliberate move to attract newer, younger members who are interested in different things. The design of the club created spaces that can be used for a variety of things from dance to bingo to meetings, even things like the European soccer league, allowing members to get together and celebrate a sport they love.
MB: With the hospitality function, I guess the club becomes a more sustainable proposition and offers more to its members now?
ND: Yes, the old hospitality offering was always there but it was very inward-focussed. The offering is now visible from the street and is designed to engage with the community in both the building and the neighborhood.
MB: I'm interested to know what the profile is of the residents who now live in the apartments?
ND: The residents are a mixture of the demographic themselves; the apartments range from 1-3 bedrooms and vary in size and price point meaning they are suited to a range of different people. We were deliberate in design to create diverse types of apartments to appeal to different purchasers at different stages of their life.
MB: That mixture of apartment types – that's something I've been thinking about in the New Zealand market – the fact they're often designed to sell quickly. The market in Auckland isn't as mature or as diverse as in Australia and we tend to end up with two-bedroom, two-bathroom dwellings for young professionals who want to buy somewhere or live somewhere with a flatmate. But I think you're right - a variety of typology adds to the sustainability of the community. If you provide a variety of living spaces, you get a variety of residents which makes a stronger community, and that encourages people to live there longer, adding to that strength.
ND: That's the beauty in the city fringe; urban infill developments versus the greenfield development, which is trying to create community and personality. The beauty of a project like the Spanish Club is that the community is already there. People buy into these developments and they want to be there because of the buzz, the high street and the amenity.
In Auckland you might spend all Saturday, from brunch to 3am, on Ponsonby Rd – why wouldn't you want to live there? Why couldn't Ponsonby Road or K Road be eight storeys. What the density does, is it puts people into that area and makes retail and hospitality more viable, therefore increasing the quality of the offering through that process.
MB: While the Auckland market is starting to embrace density, what does it mean for people living within that – in terms of amenity provided within an apartment?
ND: Size becomes less of a factor – When you live in these apartment buildings you are more likely to go to the pub, the restaurant down the road with your mate for a meal, for a drink, rather than inviting them around. What that means is you don't need a six-person dining table. You are more likely to go down the street for a great meal cooked by someone else – dishes done – you don't have to worry about driving to get home. It's also convenience; supermarkets are nearby so you can walk there. A lot of these apartments have car-share facilities or they prioritise sustainable transport like bicycles. Cities are becoming more decentralised, so less people are driving into the CBD.
MB: It's clearly popular – have all the apartments sold?
ND: We are very lucky to work with Gurner, who has a strong brand following. They sold them all in one night, which is unbelievable. People buy into the fact it is a boutique apartment. The body corporate fees are reasonable; you're not sharing your lobby with hundreds of people. You have the ability to genuinely get to know your neighbours and residents which is exciting.
MB: The fact that it sold out so quickly is a testament to the idea. It's nice to hear you say they're interested in the Spanish Club and how that community has taken a leap forward to do this. That's a great picture of Johnston Street buzzing with activity.
ND: It is – but it could be anywhere right? A two-storey building, some of it heritage, some non-descript buildings. You could see the potential and how this could evolve over time.
MB: You say it could be anywhere. Could it be in Auckland?
ND: I firmly believe it could be. The reason why I say that is – having spent a reasonable amount of time in Auckland – I think the high streets, particularly on the city fringe suburbs, could 100 per cent be this, and they would flourish for it. What they'll probably find is there would be more people around, which is great. They would become 24-hour places, not just a place of shopping or nightlife. They become fully rounded; there's no reason why this couldn't be in Auckland.