As the most tech-savvy, educated and inquisitive generation in our short modern history, the arrival of the millennial generation has forced numerous industries to reconsider the way they design and present information.
For the generation that is consuming more media than anyone else and consistently being bombarded with thousands of brand messages – some studies have estimated this number to be upwards of 4,000 each day – conversely, they are also the least likely to respond to traditional advertising. Instead, they crave a tangible bond and genuine connection with the brands, institutions, and spaces they interact with. Millennials demand honesty and transparency, and connect to companies that take social responsibility seriously.
Ownership over their individual journey is vital for this group. From an architectural standpoint, this has presented a fascinating shift in the way we design buildings and experiences to tap into this search for authenticity, and create an emotive and meaningful connection with those who inhabit the spaces.
Their experience begins in the digital realm as an extension of the spatial customer journey – a seamless connection between the online and offline brand identity is expected. To reinforce a decision, millennials will research and explore both the physical and digital representations of a brand.
At the same time, millennials are risk takers: rapid and abrupt adopters of change. In return, designers must be agile and adept at responding to and anticipating their shifts. The approach of designing from a human scale and user experience standpoint is critical. 
It's exciting to be a designer in this moment, creating new interior typologies that are unexpected, and taking risks to meet the millennial's needs.
Warren and Mahoney's recent transformation of the NAB flagship store on George Street, Sydney, was completed with these needs in mind. The project is an example of NAB taking a risk and engaging with its customers in an innovative way. The site-specific design is a beacon on George Street, rather than a repeated rollout identity.
The interior retail space meets the needs of the millennial customer journey, offering a personal and dynamic environment. A transaction can be done online – this in-store experience is about engagement and human interaction.
Gone are the glass boxes that act as a barrier between customer and banker – the evolution to an open-plan design allows NAB's team to assist customers while still allowing them to be in control of their own experience. The ground floor is a flexible space offering customers online portals and semi-private areas to test new products and explore their banking needs with or without the assistance of a mobile banking representative. The upper floor is a space for the transient millennial community – a co-working business centre with comfortable, ergonomic furniture and drop in casual-working zones, designed exclusively for NAB customers.
The changing spatial environment is different with each visit but the agility is strengthened with the reassurance presented by a clear brand identity, creating a stable and nostalgic framework.
The millennial's preference for flexible working hours and environments has created a rush of services in the commercial industry to support them. WeWork, a global company that provides co-working spaces and services for entrepreneurs, freelancers, startups and small businesses, has experienced an exponential expansion since its launch in 2010. 
WeWork's second office in Sydney, which opened in November 2016 in Pyrmont, took a former wool store and created a space for 1,700 WeWork community members. To attract the millennial workforce and cater to their inclinations, the space supports collaboration and networking, while holistically acknowledging the lifestyles of its intended community. Members have access to a mothers' room, wellness space, landscaped gardens and balconies as well as two dog-friendly, WIFI connected levels. The non-traditional environment enables the community to decide how, and when, they wish to work.
This sense of community and collaboration are core to the millennial's work life. Blackwood Street Bunker is an example of where an architectural practice and a construction company, although rarely working together, redesigned their office block to continue the sense of community they had established in their previous workplace arrangement. The space creates a non-corporate environment that 'evokes a sense of authenticity and capability.' The workplace entries and offices are separate, while the shared amenity, which includes a breakout space and large deck, encourages socialisation through its spatiality. 
Co-living arrangements continue the narrative of co-working for the millennial. Millennials are staying single for longer than previous generations and the cost of independent living, combined with the human need for connection, are creating the need for co-living spatial typologies.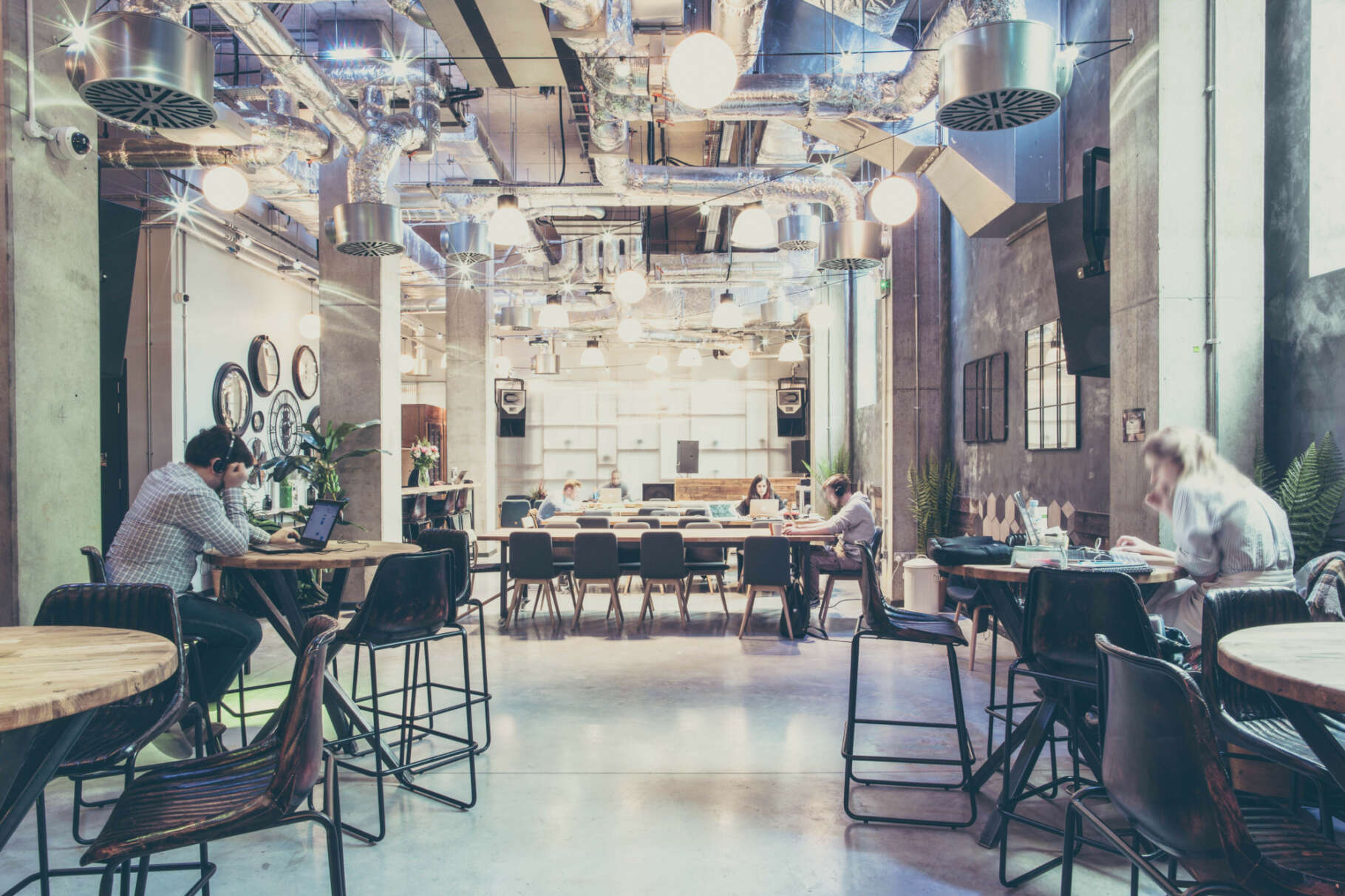 The Collective Old Oak is the world's largest co-living building. Based in London, the environment is designed for young professionals, acknowledging the millennial's yearning for connection with a focus on shared amenities that create a sense of community. Taking this idea one step further, shared amenities across multiple developments is both an efficient use of space within a dense urban environment and a way to unite people and reinforce a sense of comradery.
As with shifts in any sector, relevance and responsiveness to users' needs, behaviour, and lifestyles should guide evolution in interior design. These new and blurred spatial formats that combine work, networking, and lifestyle will become more common as millennials eclipse baby boomers as the world's largest generation. Their ideals are already influencing our built spaces and will do so for many decades to come. It is our challenge as designers to push innovation and communicate with our clients how they can spatially attract the millennial and challenge traditional spatial typologies to ensure the future success of their business.
David Hoad is a senior interior designer based in our Sydney studio, specialising in customer experience. David won the Emerging Design Professional award at the 2017 New Zealand Interior Design Awards and was the youngest finalist in the category.