Architecture has the power and responsibility to represent people and place. 
Great architecture goes beyond the functional requirements of the brief into the challenging territory of meaning. And 'meaning' means mattering to people. Architecture achieves real power when people care about it and identify with its symbolic, cultural, social or brand value. Architecture that matters to people is transformative. It can unify organisations, cities and nations. It can represent change at the monumental scale and capture and express cultural identity.
At Warren and Mahoney we are vitally interested in the power of identity. It drives our strategy and our design investigation. This focus differentiates us. By authentically capturing the identity of client and context our work achieves relevance and durable beauty. We create spaces and places that resonate and enhance belonging. 
Below are five projects that express the identity of the people and places they were created to serve.
GREAT ARCHITECTURE GOES BEYOND PROFICIENCY INTO THE CHALLENGING TERRITORY OF MEANING. ​
SUPREME COURT, WELLINGTON, NEW ZEALAND, 2009 Chapter 1
Chapter 1
SUPREME COURT, WELLINGTON, NEW ZEALAND 2009
The design of a new Supreme Court was a symbolic expression of New Zealand's maturation - a permanent departure from the London based Privy Council to the independence of a locally operated final court of appeal. 
The design needed to consider multiple obligations - to operate as a world class home for justice, to symbolise stability and continuity, to provide a transparent and open physical embodiment of law and also to deliver a durable symbol of New Zealand's unique multicultural identity. 
The new building also needed to respect and compliment the heritage-listed Wellington High Court building, completed in 1879. Warren and Mahoney was engaged to restore the original building and design the new facility within a single unified project. 
The completed building is highly crafted, capturing multiple allusions to unique elements of New Zealand landscape and culture. The entire upper level of the building is wrapped in a bronze screen representing the windswept branches of the native pohutukawa trees that line the country's coastline. The central space of the project, the main courtroom itself, is crafted as an organic timber lined orb, naturally lit from the top and externally lined with copper 'scales' – a series of connections with the flora and fauna of New Zealand. 
This is a building that deliberately eschews fashion and is biased towards durable symbols - a place that New Zealanders can rely upon for unchanging values and stable ethics. 
THE COMPLETED BUILDING IS HIGHLY CRAFTED, CAPTURING MULTIPLE ALLUSIONS TO UNIQUE ELEMENTS OF NEW ZEALAND LANDSCAPE AND CULTURE.
Chapter 2
CHRISTCHURCH TOWN HALL, NEW ZEALAND, 1972 (Original Build),  2016 - 2018 (Restoration)
Conceived as the result of a limited design competition, the Christchurch Town Hall landed as a concrete crustacean in a city famous for Nao-Gothic traditions and imported English conservatism. The work was, however, the first major manifestation of a cohort of architectural contemporaries, each simultaneously influenced by the twin forces of Miesian Modernism and post war British Brutalism. Together, this small clique of talented individuals steered Christchurch towards a new course - one that redefined the identity from provincialism to international relevance.
The completed project was quickly endorsed by performers and audiences for its world-class acoustics, geometry and scale. Success as a performance venue, reinforced by the architectural power of its form quickly placed the building at the centre of the city's sense of 'civic self'. 
A series of catastrophic earthquakes destroyed the entire centre of Christchurch City in February 2011, leaving the Town Hall shattered at the heart of a razed city centre. Local authorities made the courageous decision to rescue the building from demolition, recognising that the building was far more than a building - it was a symbol of defiance, of survival and celebration of cultural life in the face of natural disaster.
SUCCESS AS A PERFORMANCE VENUE, REINFORCED BY THE ARCHITECTURAL POWER OF ITS FORM QUICKLY PLACED THE BUILDING AT THE CENTRE OF THE CITY'S SENSE OF 'CIVIC SELF'.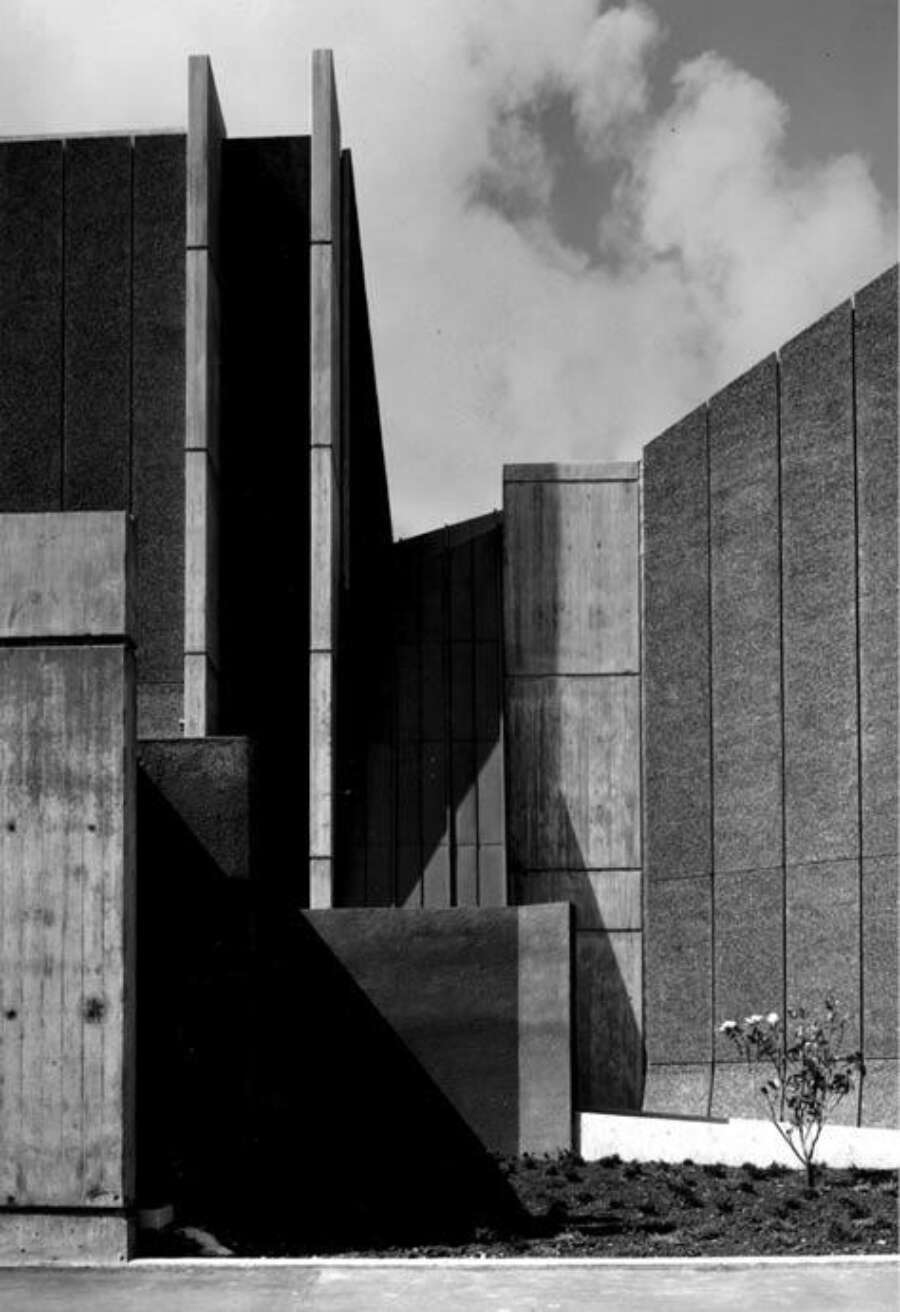 Chapter 3
MANUKAU INSTITUTE OF TECHNOLOGY, AUCKLAND, NEW ZEALAND, 2014

Perhaps the central question for any design project is whether it improves life. The CEO of MIT was faced with a strategic conundrum - how could contemporary education be brought into the lives of people who felt threatened by educational environments? 
Manukau City is home to one of New Zealand's most diverse communities. Auckland has the largest Polynesian population of any city in the world and may be considered the Capital of the South Pacific. It's a city that is thoroughly enriched by the cultural traditions of multiple Pacific peoples. However, these communities are frequently socially disadvantaged, missing the opportunity for tertiary or advanced vocational training. 
The central opportunity within the project lay in the requirement to co-locate a new underground railway station with the new MIT campus. Although the project brief suggested a group of tertiary educational buildings would share a site with the station, Warren and Mahoney suggested a more ambitious solution - a singular structure to physically wrap and contain the station thereby ensuring that commuters were introduced to the possibilities of education - incidentally, every day of their lives. 
This solution offered a clear strategy; to create a multi-level central atrium to unify all elements of the programme while also providing a space that provides a coherent heart to the wider campus. Every detail of the project – from structural grid to internal details – acknowledges the cultural traditions of the past while looking towards a future of improved outcomes and better lives. 
IT IS A CITY THAT IS THOROUGHLY ENRICHED BY THE CULTURAL TRADITIONS OF MULTIPLE PACIFIC PEOPLES.
Chapter 4
PACIFIC GAMES VILLAGE, PAPUA NEW GUINEA, 2015

Designing to represent a specific culture, or cultural cluster, requires research, careful observation and innovative instinctual responses. When Warren and Mahoney was engaged to design a village for 4,000 athletes for the 2015 Pacific Games there were several central opportunities to be embraced and multiple challenges to overcome. The project offered an opportunity to represent the unique culture of Papua New Guinea but also needed to be designed and completed quickly to meet the Games opening schedule.
The project also needed to address the environmental and social climate in Papua New Guinea. Climatically, the complex needed to address temperature and rainfall extremes while also delivering an ongoing legacy use as student accommodation. Luxuries such as air-conditioning were unaffordable and local social conventions required genders to be separated while also allowing the complex to behave as a cohesive community.
The solution to both issues was divined, at least in principle, from an investigation into traditional architectural forms and construction techniques. Indigenous peoples had long ago understood that integrated sun shading, passive ventilation and high internal volumes were natural antidotes to the demands of humidity and intensive sunlight and rainfall. Our design team researched, adopted and adapted these techniques to the demands of a fast-track $300m project to be constructed from largely prefabricated components. 
The result is a complex that is a contemporary response to traditions that have evolved over many hundreds of years, demonstrating that tradition and technology can meet without conflict. 
Chapter 5
COMMERCIAL BAY, AUCKLAND, NEW ZEALAND, 2017

Auckland is one of the world's great harbour cities. In 1850 Commercial Bay was a vibrant centre for the city's first merchants and traders. The development of a new 40-storey office tower and multi-level retail podium on the site is an appropriate symbolic expression of the new centre for commercial activity in Auckland.
The development represents an entirely new way to work, shop, commute and relax. The office tower delivers the most efficient and flexible commercial workspace in the city with a rear service core and externalised seismic grid, releasing the entire floor plate for premium tenants. Podium levels are designed to deliver a unique retail and entertainment precinct offering premium brands and best culinary experience in a carefully curated environment.
An innovative approach to functional success is only part of the story of this project. Our client, Precinct Properties, saw the potential for the development to represent people and the place in an unambiguous way, synonymous with Auckland and New Zealand. The architectural response was to consider the podium element as an extension of Auckland's sandstone cliffs, carved into new laneways that will become part of Auckland's urban grain. In contrast, the office tower is conceived as a curved high-rise blade - a simple and dynamic symbol of Auckland's place in the world as a centre for sailing as well as ocean-borne trade and tourism. 
Whether considered in terms of functionality or symbolism, Commercial Bay represents the maturation of Auckland as the 'Capital of the Pacific' - the largest Polynesian city in the world and an increasingly innovative and dynamic international destination for business, tourism and leisure. 
THE ARCHITECTURAL RESPONSE WAS TO CONSIDER THE PODIUM ELEMENT AS AN EXTENSION OF AUCKLAND'S SANDSTONE CLIFFS, CARVED INTO NEW LANEWAYS THAT WILL BECOME PART OF AUCKLAND'S URBAN GRAIN.